Jesus is calling … calling night and day; He's calling for you so don't turn away! When your soul is weary and it seems you've lost your way, when you need a friend to go with you all the way … Jesus is calling … calling night and day.
John 15:15a - "Henceforth I call you not servants; for the servant knoweth not what his lord doeth: but I have called you friends …" 2Timothy 1:9 - "Who hath saved us, and called us with an holy calling, not according to our works, but according to his own purpose and grace, which was given us in Christ Jesus before the world began,"
If you're lost in sin, there's no need for you to stay; if the night is dark, you will soon see the day. Listen carefully, friend … don't delay! Jesus is calling, won't you answer today?
Today's Song – Watch/Listen: "Jesus is Calling" – Artist: Hank Williams
Writers: Hank Williams, Charlie Monroe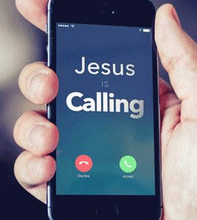 Have you answered Jesus' call?
SHARE THIS MESSAGE and
inspire someone today!